Dukes Roll Over Robert Morris 73-7
I'd like to think that when medieval people used to go watch executions, even though they knew what the outcome was going to be in advance, for at least some of them with an ounce of empathy, the experience itself wasn't necessarily all that pleasurable to watch. That's sort of how it felt watching the Dukes destroy the Robert Morris Colonials. With apologies to, we're not sure there was another player on the entire RMU team that was athletically in the same zip code.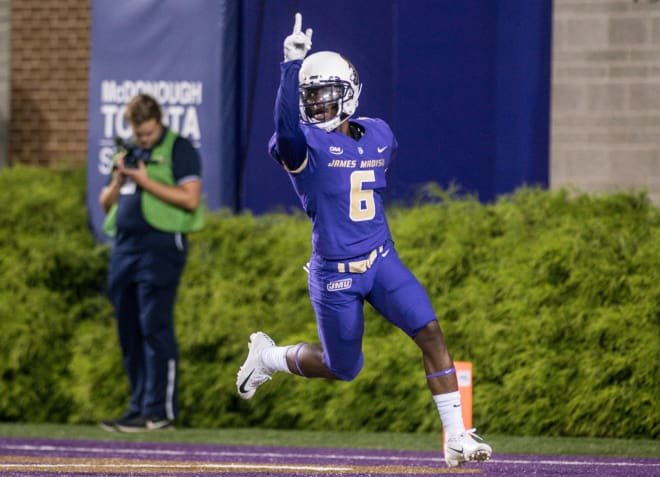 The Good
Jimmy 'effin Moreland – Jumping a WR quick-screen for a pick-6 is, of course, the most Jimmy way to break a JMU career record imaginable. We just feel so fortunate that one of our all-time favorite players has gotten to play in this glorious era of JMU football and that we have hopefully 12 more games to enjoy his talents and, more importantly, the joy with which he plays the game.
JMU Nation – Look, we could write a list a mile long of players who did cool things last night, including a bunch of new names, but really when you beat a massively inferior opponent by 67 points particular plays are not all that noteworthy. But when your fanbase makes a decent showing, and your students make a fantastic showing, for a game that was switched to a weeknight kickoff three days before, you take note. We couldn't help but smile that last night turned out to be a fairly gorgeous night in the Valley and the crowd looked easily as good as we've seen for bad weather or early-round playoff games in years past. We're growing people, enjoy the ride!
The JMU Lacrosse feature at halftime – Superb. Meaningful (might've been a little dusty here at JMUSB HQ). And like the team, uncompromising. There was not cute antics or b.s., just a bunch of badass women wrecking things and kicking in the door of what had been a very closed house of champions in that sport. What a fun production from JMU that we couldn't help but think must've played well to recruits and younger players from the lax-mad DMV that might've casually been tuned into the game on a relatively slow sports night. For that matter, the MadiZone production overall is so darned good. Adding in some other pros or semi-pros alongside the legend Curt Dudley is also taking this to another level. As always, HUGE thanks to the JMU Alumni Association for keeping this freely available to fans everywhere!
The Bad
Continued lack of a deep passing game – It's just RMU, but the first true deep ball of the season from DiNucci "towards" Eldridge was underthrown and underwhelming in terms of instilling confidence the Dukes are going to find this element going forward. Next week will be a big test when the Dukes get back to playing a somewhat competitive opponent.
Papa John's commercial still featuring Papa John – We're not hating on Papa John's (it's garbage pie). And we're not getting into politics or the Kentucky legislature or wild claims from Rick Pitino (we'll save that for JMU's game at Louisville in a couple years!), but this guy resigned in disgrace a couple months back and you'd think we could dig up a commercial without his strung-out face in it.
The Ugly
Not much to say here than that it is an ugly truth that we as fans need to start facing, and the scheduling gurus at JMU need to start addressing, that we still have more of these awful games agains hugely inferior competition to come. In the Mickey days where 5-3 in CAA play and a conceded loss to an FBS team was the norm, JMU needed to pad the schedule with MEAC/NEC opponents to put it in the best position for a playoff bid. But these days, and we don't say this arrogantly or to be jerks, the simple fact is that most FCS teams from any conference almost fall into cupcake status for the Dukes and these games are not helping anyone. RMU looked beaten and miserable, only Coach and the film will know if JMU actually got better last night which should be the goal of these games, and normal fans probably snoozed through the second half. We've been big defenders of JMU's scheduling in the past, even some questionable road game contracts, but it's time to switch out one of these scrimmages for at least a SoCon opponent.