TMZ Tuesday
So consider this the first in what will be a very intermittent series here at JMUSB we're calling TMZ Tuesday. After all, we've got eyeballs and interest this week with the gridiron Dukes rolling so why not shamelessly roll back out the theme that's given us our biggest posts ever? Remember this?
Or this?
Of course you do! So in that spirit, how about these two new entries.
First, we have legendary Dukes alum Arthur Don't Cross the Moats, now contributing heavily for the Pittsburgh Steelers, mugging with The Biebs! Somehow this took place at Steelers Bible Study last week.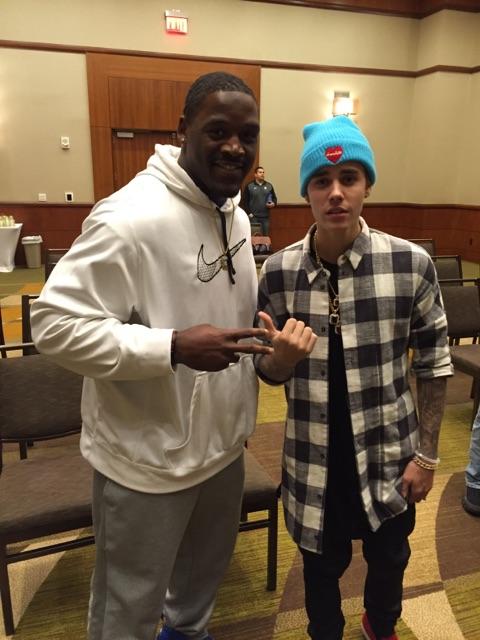 And second, something I've been meaning to touch on for awhile that I still kind of can't believe and is just cool. As some of you may know, former JMU TE Mike Caussin has quietly kept his NFL dream alive the last few years after stints on various practice squads and by enduring injuries. This year he's actually on IR with the Redskins after getting hurt in the preseason. But did you know he's dating budding country starlet Jana Kramer?! Yes, that Jana Kramer, the one who made the hit song "Why You Wanna?," a song that made no sense because no guy would leave her. We tend to give her huge points because Mike, simply being a Duke, is obviously a huge upgrade over Ms. Kramer's according-to-Wikipedia ex-boyfriend Brantley Gilbert!
Now back to your regularly scheduled Poormond Ticks Week! Speaking of, consider this a test balloon for the first-ever North Carolina Triad Area (not Triangle Area) JMU Watch Party this Saturday. JMUSB's southern half (that's me) has already set things up with Greensboro's finest (i.e. trashiest) dive bar – the infamous Suds n' Duds laundromat bar – for sound and the bigscreen in the ping-pong/living room area. Some type of food ranging from possibly Crock Pot Chili Fritos to delivery pizza and your first shot after a Dukes TD will be sponsored by JMUSB and we'll give away whatever random purple and gold swag we grabbed up during Homecoming's fiasco!